Posted by Sonja in Nov 08,2014 with No Comments
It's hard enough giving a passionate team talk in your native language.
But England rugby hero Jonny Wilkinson does it in both English and French.
Wilkinson, 35, delivered the epic speech as he captained former team Toulon to a European double earlier this year.
The French side beat Castres 18-10 in June to win the French Top 14 final, just eight days after retaining the Heineken Cup by beating Saracens.
Wilkinson's inspirational half-time speech appears in a teaser for a film about Toulon's double-winning season 'En route vers le double'.
He stands at the head of his teammates, who listen intently before they touch hands and shout enthusiastically as they head out for the second-half.
Wilkinson, who retired from the sport following the double triumph, was awarded honorary citizenship of Toulon by the city's mayor as the curtain came down on his glittering career.
Share on Facebook
Posted by Sonja in Nov 04,2014 with No Comments
Having converted the World Cup-winning drop goal, Jonny Wilkinson will forever be remembered a great of English rugby.
But having spent five years at Toulon before retiring, the iconic fly-half discovered that love is reciprocated by the French.
Ahead of the upcoming Autumn Internationals, Wilkinson is the subject of a clip, simply titled 'Merci', as Toulon supporters and key figures pay homage to their former player.
Labelled 'the perfect man', he is commended on his 'humility, courage and solidarity' having battled back from a series of injuries during his time in France.
The clip is the first of four from Guinness as they attempt to rally the Home Nations. Shane Williams, Bill McLaren and the legendary Munster team of 1978 will also be the subject of short films
Share on Facebook
Posted by Sonja in Oct 16,2014 with No Comments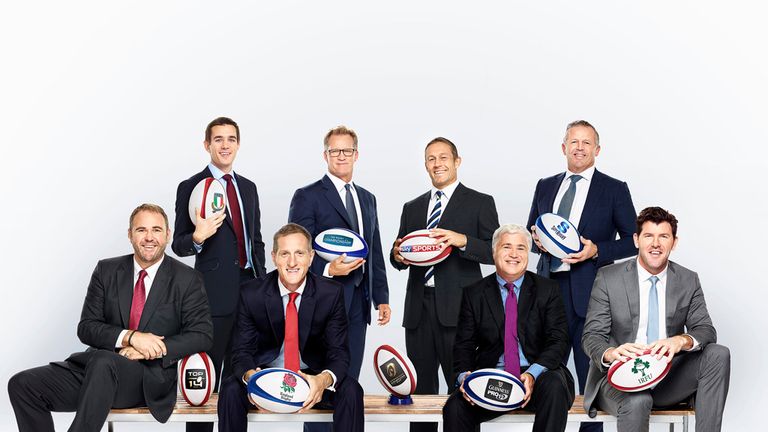 England's World Cup winning fly-half, Jonny Wilkinson, will feature on-air as an analyst for Sky Sports and as an Ambassador for Sky Sports Living for Sport from October.
He will join Sky's unrivalled line up of experts during our biggest ever season of international, European and domestic rugby union.
Wilkinson will be in the studio for the first time on Saturday as Sale take on Munster and Premiership champions Northampton Saints travel to Paris to face Racing Métro in Sky Sports' opening two fixtures in the European Rugby Champions Cup.
He will offer fans his expert insight into the weekend's action having won the Heineken Cup with RC Toulon for the last two years. He will then be reunited with Sir Clive Woodward and Will Greenwood as England face the All Blacks at Twickenham on 8 November, analysing what it takes to beat the world's top team.
As part of the new partnership, Wilkinson will also become an Ambassador for the Sky Sports Living for Sport initiative, which is free to all secondary schools in the UK and Ireland. He will use his own personal story to inspire young people plus the skills learnt through sport to help increase young people's confidence, self-esteem, engagement in, and attitudes to, learning, and improve their health and wellbeing.
Wilkinson commented: "I've been fortunate enough to have some incredible experiences on the rugby pitch. I'm excited about passing on my passion and sharing what I've learnt over the years with Sky Sports viewers and young people in the next chapter of my career. I'll be in impressive company as I join another successful team and I hope that I can play my part in the studio."
Barney Francis, Sky Sports Managing Director, commented: "Jonny is a sporting legend. We all remember where we were when we watched that drop goal. Having been there and done it in every competition for club and country, rugby fans will want to hear his perspective on our biggest ever season of international and European rugby. I can't wait to see him in action."
Wilkinson retired earlier this year, after taking RC Toulon to the Top 14 and Heineken Cup title in his final season. He ended his career as the second highest international points scorer of all time and played a pivotal role in England's famous 2003 Rugby World Cup win. He collected four RBS 6 Nation Championship medals, enjoyed Premiership success with Newcastle Falcons and toured twice with The British and Irish Lions.
The Sky Sports rugby union schedule features over 360 live matches this season including Autumn Internationals from England, Ireland, France and Italy, European Rugby Champions Cup and Challenge Cup, Top 14, Guinness PRO12, IRB Sevens World Series, and women's rugby.
The Sky Sports Living for Sport initiative has been running in partnership with the Youth Sport Trust since 2003. The free initiative is open to all UK and Irish secondary schools and over 90,000 young people will be involved this year. Wilkinson will join our team of Ambassadors, including Great Britain Olympic Champions Jessica Ennis-Hill and Darren Campbell, plus our Irish Ambassador Olympic Boxer Katie Taylor, alongside our team of 90 world-class Athlete Mentors.
Share on Facebook
Posted by Sonja in Oct 11,2014 with No Comments
World Cup winner Jonny Wilkinson presented the jerseys to Wigan on the eve of Saturday's Super League Grand Final.
The former England fly-half, who retired at Toulon the end of last season, was invited to perform the honours by ex-Great Britain full-back Kris Radlinski, the Warriors' rugby general manager.
'Privileged to have my shirt presented by @JonnyWilkinson himself! Legend,' tweeted centre Dan Sarginson.
The St Helens players were presented with their shirts by one of the club's all-time greats, Tom Van Vollenhoven, who flew in from South Africa for the match at Old Trafford.
Defending champions Wigan will face table toppers Saints in the season's showpiece hoping for a third title in five years.
Share on Facebook
Posted by Sonja in Oct 04,2014 with No Comments
Jonny Wilkinson was one of the finest rugby players to have stepped on to a field, but he will not make the mistake of believing that automatically gives him the right to tell others how to play as a coach.
Unlike others before him who assumed their brilliance as a player would make them excel as a teacher, Wilkinson has started the new phase of his career with typical humility and intelligence.
He will not try to shoulder-barge his way into a prominent coaching position following his retirement at Toulon. He will not look to use his media profile to gain yardage in the job market, he will approach it in the same methodical and meticulous way that defined him as a player.
Wilkinson will be involved with the England set-up as they step into a pivotal 12 months that will climax with a home World Cup campaign, but he will be there to observe.
Stuart Lancaster, the head coach, has invited the former golden boy of English rugby to speak to the squad during the forthcoming autumn internationals, yet Wilkinson seems more interested in what he can learn than what he can pass on.
"I've spoken to the guys about it and they've asked me to come along," said Wilkinson, who is also spending a week every month coaching his former team-mates at Toulon.
"If there is anything I can add, then we can have a little chat, but more importantly I need to learn my trade. I was a player, but just because I knew how to play doesn't mean I've earned the right to tell other people how to do it.
"I've got plenty of time and I need plenty of time to understand where I go next. I'd love to go down to Pennyhill [England's regular training base] and see what they do because what they do is very good.
"I'm also coaching one week every month in Toulon, learning my way around it. I'm coaching individual skills, mentoring some of the young guys, how to cope with the emotional and mental side of things.
I'm really enjoying it, but when you start managing groups, forwards and backs, or the whole team, that's completely different.
"I don't know how to do that now, how to manage a team, deal with people, contracts, recruitment, it's a tough world and the biggest mistake you can make is thinking just because you played the game, you already know it."
Every conversation about rugby for the next 12 months inevitably turns to the World Cup. Wilkinson is impressed by England, but he is still to be convinced they are consistently good enough to beat the best teams.
He wants England to show in the autumn internationals against New Zealand, South Africa, Australia and Samoa that they are coming to the peak of their powers in time to lift the ultimate prize.
"I think the England team is in a really good place," he said. "They have a consistency that makes sure they are there or thereabouts against the best sides in the world, but they have to learn how to
beat the best teams regularly, to build that momentum. We will know more after the autumn internationals, but I won one Grand Slam in the Six Nations and that was the year we won the World Cup.
"Everyone is going to point to New Zealand as the key game and it is. You get tested everywhere. It's about pressure, it's about the bottom end as it were. Can you be amazing and score tries against them? Well, yes, we've shown we can do that and a lot of teams score against New Zealand, but what New Zealand do is pressure you all the game.
"It's the score after you score that breaks the big teams. If they pick up a bit of loose ball, they are off and they score and you are left thinking, 'But we were in such a good position, how the hell are we here now?' It's about showing we can do that to them.
"What New Zealand do is everything very, very well and they wait for you to break and every team breaks. It's the team that suddenly finds a way to say, 'No we're going to do this back to you'. They don't worry about breaking and we have to change that. They are the ones constantly exerting pressure, which is what we need to turn back on them. Beating South Africa would also be a monkey off the back because we haven't beaten them in a while. That game is about fronting up physically and the mental side of things.
"They would be the big two victories for me. We need to know we can beat those two teams if we have to. That would be an incredible step forward. We've had great effort against them and just fallen short, we want to beat them and say, 'Yeah, we're England, that is what we do'."
Share on Facebook
Posted by Sonja in Oct 03,2014 with No Comments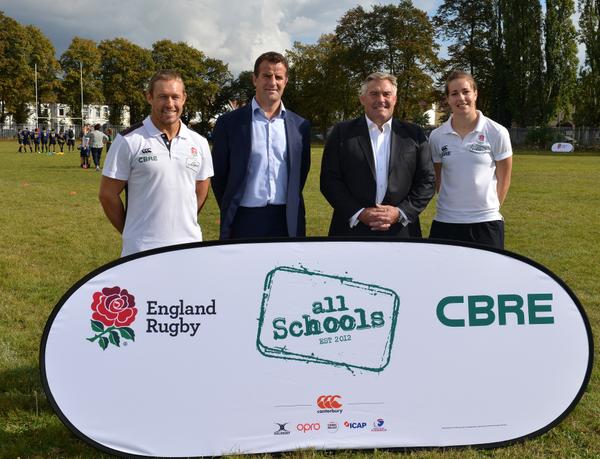 The Rugby Football Union today unveiled 2003 Rugby World Cup winner Jonny Wilkinson as an ambassador for All Schools. He joins programme supporters including Jason Leonard, Maggie Alphonsi, Andi Peters and Ben Shephard.
Accompanied by Women's Rugby World Cup winner Emily Scarratt, Jonny went to Streatham-Croydon RFC today to meet students and teachers from 14 local schools – six having joined All Schools this year – at various stages in the programme.
This appointment follows the recent announcement of leading commercial property and real estate services advisor CBRE as Principal Partner of All Schools.
During his visit, Jonny took part in a Canterbury Kit Design Workshop alongside students and teachers from the six schools new to All Schools for 2014/2015, all of whom learnt about the history of the shirt and designed bespoke kits for their school. As well as creating his own shirt design, Jonny spoke to the attendees about what it means to be part of a team, the importance of the shirt and what playing for his school, clubs and England meant to him.
Following the workshop, Jonny headed out to the pitch to help coach students from the other schools during a rugby festival.
Launched in September 2012, All Schools will increase the number of secondary state schools in England playing rugby union. The aim is to have 400 schools enrolled by next year's World Cup and 750 schools by 2019. One hundred new schools have joined the programme this year, taking the total number of schools in All Schools to 300.
Commenting on his role as All Schools ambassador, Jonny Wilkinson said: "It's been great to come here today to Streatham-Croydon RFC and meet some of the students and teachers who are benefitting from All Schools.
"I felt strongly about getting involved with the programme, as I think it will make a difference to people and communities across the country.
"Rugby's not just running around chasing a ball, it is about being part of a team and changing your life. As I've seen here today, it can have such a positive impact and energy for so many people.
"In rugby there's a place for everyone – big, small, thinker, grafter, slow or quick. Everyone in the team is equal and you can all bring your own personality. I think as well, that realisation that you are part of something bigger, the values, it makes you a better person"
Mark Saltmarsh, RFU Head of Education Development said: "Jonny is a fantastic role model for young people and really embodies all rugby's core values. To have him involved as an ambassador for All Schools means a great deal to us. There's been a great reaction from students and teachers alike today and I think that's contributed to everyone having a fantastic time playing our great game."
Also attending the event was Minister for Children and Families Edward Timpson. Speaking about All Schools, he said: "We want to create a world class education system that gives children all the skills they need to succeed in modern Britain.
"Rugby can help instil confidence, discipline and determination in young people so I'm delighted the All Schools programme is giving so many young people the chance to take up the sport.
"With the World Cup coming here next year, our over £150million PE and Sport Premium has given headteachers the opportunity to offer more sports and employ specialist teachers so more young people can play and enjoy sports like rugby."
Share on Facebook